Tiny Homes and Accessory Dwelling Units California
Tiny Homes and ADU's In California
Tiny Homes aka THOW and Park Models can be use as a recreational vehicle throughout the USA.  In California many people have purchased a Tiny Home for use as an Accessory Dwelling Unit (ADU).  An ADU in California is a legal and regulatory term for a secondary house that shares the building lot of a larger, primary home. The ADU cannot be bought or sold separately, but they are often used to provide additional income through rent or to house a family member. A Tiny Home is a type of home that can be used as an ADU in many cities in California.  We build our Tiny Homes and ADUs in California with prefabricated construction to save time and money for clients.  Prefabricated construction is less disruptive to home owners and neighborhood as we can typically complete a project onsite in a few weeks once your home is built in our factory.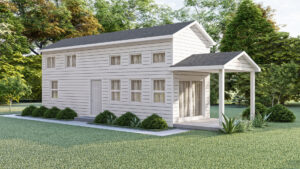 Tiny Home vs ADU
What is difference between a Tiny Home and an Accessory Dwelling Unit in California?
Sometimes nothing! A Tiny Home aka a Park Model is technically an RV that cannot exceed 400 sf. Many cities such as San Diego, San Jose, Oakland, San Luis Obispo and Los Angeles allow Tiny Homes / Park Models as ADUs. The Tiny Homes we offer are built to both ANSI and CBC to satisfy local building officials – PLUS we feel our Tiny Homes provides a better built home. We have many models that include lofts and porches that are not included in the livable space but extend the actual usable space.
About California Home Builders
The team at USModular, Inc. is unique in industry as we are general contractors, licensed Manufactured Home, Modular Home and Park Model dealers and a licensed Modular and Park Model Factory. Our team is led by a 2nd generation contractor and has combined 100+ years' experience in the Prefabricated Construction industry.  We are a ONE STOP SHOP – we handle everything:  design, permits, site construction, home fabrication, transportation, installation, utility connections and then we hand you the keys!
ADU Zoning in California
What Cites/areas in California allow a Tiny Home to be permitted as an ADU??
Many Cities and Counties in California are reviewing their laws and have Tiny Homes aka THOW (Tiny Homes on Wheels) aka Park Models to be permitted as ADUs.  So far major Cities and Counties in California are the leaders in the Tiny Home movement.
Check the Tiny Home Industry Association website for updates :  https://tinyhomeindustryassociation.org/legislation-california/
California ADU Features and Benefits
Complete Tiny Homes – living room, bedrooms, kitchen, baths
2 x 4 exterior walls
Completely insulated – energy efficient
Tankless water heater – available
Granite/Quartz counter tops – available
8', 9' or vaulted ceilings – available
Sleeping lofts – available
Fire Resistant – State WUI code – available
Fire Sprinklers – available
Fast to build
Easy to Rent
Minimal disruption to owners and neighbors during construction
Stylish and Trendy
Why Choose a Prefabricated ADU in California?
Prefabricated ADUs and Tiny Homes are built in a factory by a team that works together on a daily basis. Team work, Bulk buying power, Smart designs, Save Time and Money!    Prefabricated is the future of construction and you can own the future now!!!!!!
Why Build an ADU In California?
Extend Living Space 80%
Reduced Time to Build 60%
Satisfaction Guaranteed! 90%
Energy Savings 50%
Rental Income 80%
Look at our various floor plans and contact:
951-679 9907
Visit Get Started to fulfill your vision today!